Open Calls
Discover residency programs using the open call deadlines listings.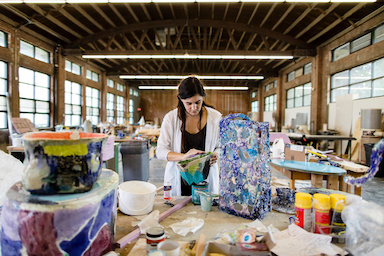 An open call is an opportunity for upcoming or rolling (ongoing) applications. Artist Communities Alliance (ACA) provides two types of lists to help with the residency search process. Note that only ACA members and their residency programs are listed.
Open Calls listed below are sorted chronologically by the deadline date.
Visit Ongoing Open Call Deadlines to access all ongoing deadlines, sorted alphabetically by open call name.  Open Calls in the Ongoing list do not have a deadline and applications are accepted on a rolling basis.
Do you want your residency program or open call featured in the Directory?
| | | | |
| --- | --- | --- | --- |
| Mesa Refuge | Mesa Refuge 2024 Residencies | view | | California, United States |
| Prairie Ronde Artist Residency | Prairie Ronde Artist Residency Spring Session 2024 | view | | Michigan, United States |
| Arts Southeast | Sunny Savannah Spring/Summer 2024 Artist in Residency - fully funded | view | | Georgia, United States |
| Cow House Studios | Open Residency Program Spring, 2024 | view | | Co. Wexford, Ireland |
| Foundation House | Foundation House Artist Residency: January 2024 Session | view | | Connecticut, United States |
| CubaSeen | Artist Residency in Havana, Cuba | view | | La Habana, Cuba |
| Casey Droege Cultural Productions | Summer 2024 & Winter 2025 Cohorts | view | | Pennsylvania, United States |
| Newport Art Museum | Artist-in-Residence (AiR) 2024 | view | | Rhode Island, United States |
| Buinho | Buinho Residency Program: 1st semester 2024 - Portugal - last vacancies | view | | Portugal |
| Tusen Takk Foundation | 2025 Visual Artist Residency Program | view | | Michigan, United States |
| Dorland Mountain Arts | February/March 2024 Residencies | view | | California, United States |
| R.A.R.O. Barcelona | R.A.R.O. BARCELONA AIR OPEN CALL – SPRING – SUMMER 2024 | view | | |
| The Croft Residency | Rootstock 24 | view | | Michigan, United States |
| The Croft Residency | RADicle 24/25 | view | | Michigan, United States |
| Aviário Studio | Artist Book Residency - Spring/Summer 2024 | view | | Portugal |
| Aviário Studio | Multidisciplinary Art Residency - Summer and Fall 2024 | view | | Portugal |
| Chulitna Lodge Wilderness Retreat | Chulitna Lodge: Creative Residency in Alaska Summer 2024 | view | | Alaska, United States |
| Center for Contemporary Printmaking | Printmaking Residency: Summer Session 2024 | view | | Connecticut, United States |
| Constance Saltonstall Foundation for the Arts | 2024 Residencies | view | | New York, United States |
| Good Hart Artist Residency | Residencies in 2024 and Early 2025 | view | | Michigan, United States |
| Trillium Arts | Miss Sarah Fellowship for Black Women Writers 2024 | view | | North Carolina, United States |
| Anderson Center at Tower View | August 2024 Emerging Artist Residency | view | | |
| Anderson Center at Tower View | 2024 Residency | view | | Minnesota, United States |
| Arteles Creative Center | Back to Basics - Intensive residency program in Finland, summer 2024 | view | | Finland |
| The Luminary | 2024 Open Call Residency for Research-Led Practices | view | | |
| Sculpture Space, Inc. | SCULPTURE SPACE RESIDENCY 2025 | view | | |
| Ucross | Fall 2024 Open Call | view | | Wyoming, United States |
| Craigardan | Call for Applications | view | | New York, United States |
| Jentel Foundation | Residency Summer/Fall 2024 Open Call | view | | Wyoming, United States |
| Monson Arts | Open Call - Spring 2024 | view | | Maine, United States |
| Hambidge Center for Creative Arts and Sciences | Summer Residency Session (June through August) | view | | Georgia, United States |
| Essere Writer & Artist Residency | Open Call - Fall 2024 | view | | Siena, Italy |
| Volland Foundation | Volland Foundation Residency | view | | Kansas, United States |
| Tofte Lake Center | 2024 Minnesota BIPOC Artist Residency | view | | Minnesota, United States |
| Tofte Lake Center | 2024 Family Artist Residency | view | | |
| Tofte Lake Center | 2024 Minnesota BIPOC Arts Educators Residency | view | | Minnesota, United States |
| Tofte Lake Center | 2024 Individual Artist Residencies | view | | Minnesota, United States |
| Nawat Fes | Open Call | view | | Morocco |
| Popps Packing | 2024 Studio Residency | view | | Michigan, United States |
| Creekside Arts | Creekside Arts Spring 2024 Residency | view | | California, United States |
| Alderworks Alaska Writers and Artists Retreat | Summer 2024 | view | | Alaska, United States |
| La Napoule Art Foundation | Canadian Artist Residency, Autumn 2024 | view | | France |
| La Napoule Art Foundation | International Artist Residency, Autumn 2024 | view | | France |
| Aviário Studio | Printmaking Residency - Summer and Fall 2024 | view | | Portugal |
| Hambidge Center for Creative Arts and Sciences | Fall Residency Session (September through December) | view | | Georgia, United States |
| South Porch Artists | Spring 2024 | view | | South Carolina, United States |
| Rock Street Artist Residency | Rock Street Artist Residency | view | | Michigan, United States |
| Monson Arts | Fall 2024 Open Call | view | | Maine, United States |
| WOWArtSci | Winter 2023/Spring 2024 WOWArtSci Self-Directed Residency | view | | New Mexico, United States |
| Aviário Studio | Large Format Printmaking Residency - Winter and Spring 2025 | view | | Portugal |
| Aviário Studio | Aviário Studio Artist Book Residency - Fall and Winter 2024/5 | view | | Portugal |
| Aviário Studio | Aviário Studio Multidisciplinary Art Residency - Winter and Spring 2025 | view | | Portugal |
| Willapa Bay AiR | 2025 Residencies | view | | Washington, United States |
| Siao-Long Cultural Park of Tainan City Government of Taiwan | Tsung-Yeh Arts and Cultutal Center Artists-in-Residence Program 2024 | view | | Tainan City, Taiwan |
| Aviário Studio | Large Format Residency - Summer and Fall 2024 | view | | Portugal |
| Green Olive Arts | Green Olive Arts: 2024 January Residency | view | | Morocco |