Artist residencies provide artists, scholars, educators and other creative professionals the time, space and resources to work, individually or collectively, on the research and development of their practice.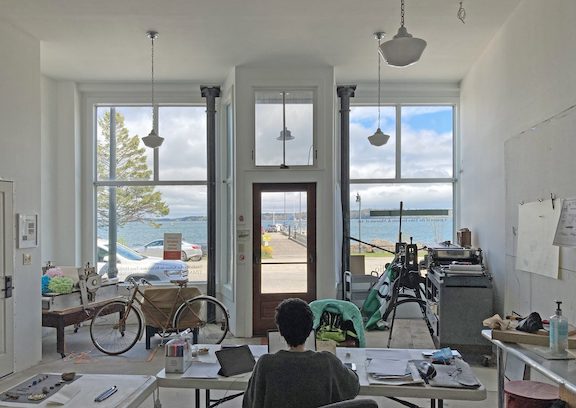 Artist residencies vary; some of the ways they differ include: 
Location (rural, remote, urban, tribal lands)
Culture and climate
Accessibility
Program design
Living space 
Workspace 
Access to specialized equipment 
Fees (application costs and scholarships) 
Length of stay
Other supports (alumni program, curator visits, documentation, teaching opportunities)
The first step in an artist's residency experience is research. An artist must understand their needs, limitations and interests at this moment in their life and career in order to find programs that are well-aligned. Once an artist has a clear understanding of their needs within the context of a residency, including their preferred workspace, length of residency, location and more, the Artist Communities Alliance (ACA) Directory can serve as a useful research tool. 
Using the Directory
Artists can use the Directory for as broad or as narrow a search as they wish. Users can filter their search based on discipline, available equipment, accessibility and more, but it is important to be deliberate about these searches. How does a restraint or interest translate into a search?

ACA encourages artists to be clear, proactive and intentional in their research process. Below, you'll find different approaches to the research process and guidance for generating the best search results. 

The Directory is a tool and platform to discover and celebrate the varied diversity, typology and context in which artist support programs exist. It is a site for artists, arts administrators and other creatives to find opportunities. The Directory includes Organizations, Residency Programs, Open Calls and Jobs.
Currently, ACA maintains a list of wheelchair accessible member programs here. 
Production
Artists should think about their technical needs and working-style when choosing a program. Some residencies provide facilities, equipment and technical assistance that support specific art forms (for example, metal, wood and printmaking workspaces; dance floors and theater space; recording studios; kilns, darkrooms and digital media labs) while others offer raw space. Artists should consider what their practice requires, and what stage of their work will be best suited for a residency.  
Search Example: A search with the tag word "Dance" may yield hundreds of programs open to dancers, but this does not mean all these programs have a dedicated dance studio. A filtered search for equipment may yield a more relevant list of residencies.
Education
When choosing a residency program, some artists may seek a private space to focus on a project or practice a certain skill. Others may want to learn a specific technique by participating in workshops or working with particular artists, curators or scholars. Some artists, who hope to conduct research, may seek residencies within a particular institution or in a particular location. Consider the opportunities for education when choosing a residency.
Search Example: An artist who hopes to incorporate research into their practice may select "Residency program within a school, college or university" under Residency Structure to find a residency where they will have access to archives and other resources. They may also select "Embedded in a national park or land trust" if their research is more based in the natural environment.  
Collaboration
Many forms of collaboration exist within residency programs. If an artist's work incorporates the people and places around them, they may want a program with a connection to the local community. Some artists may be less interested in collaborating with the local community and more focused on building networks within the residency. Consider how many other artists will be in residence and what communal structures the program provides. Are there shared meals, communal spaces or opportunities for group projects?
Search Example: A writer may want to engage with the local community for a project they're working on. However, when they return to the residency site, they seek solitude to work on their writing. They might select "Community-engaged" under Residency Program Type and 1-5 under "Average Number of Artists in Residence at a Time."
Sabbatical
Many artists seek a change in environment or an opportunity to take time away from the everyday to focus on their practice when deciding to participate in an artist residency. An artist should consider: How much time can I take? How much time do I need? Do I need a long stretch of time to work on a novel, start a new direction in my work or explore different techniques? Or do I need a short residency to finish editing, jumpstart some ideas, move to the next phase of a project?
Search Example: An artist who is parenting may only be able to participate in a week-long residency. They want to be fully focused on their work and away from distractions during this week. They would search for week-long residencies under Residency Length and may search "Retreat" under Residency Program Type and "All meals" under Meals Provided so they don't have to worry about cooking during their stay.

We encourage artists to be clear, proactive and intentional in their research process. Sign up for ACA's Residency Opportunities Newsletter, visit the Resources for Artists page, and search through the Directory to advance your research, inquiry and application process.