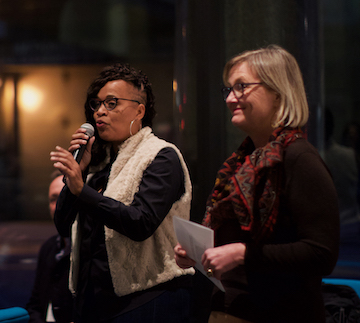 Artist Communities Alliance (ACA) aspires to lead the field in engaging challenging conversations and concrete actions around social, environmental and political issues. 
Field Conversations are virtual discussions featuring a panel of thought leaders who address topical issues that may impact or promote a new way of thinking about artist support or the artist residency field.
These conversations center artists' voices and directly engage residency leaders to explore how the artist residency field is connected to the arts sector, and explore areas of growth and innovation. They are typically free and open to all. 
 
Accessibility: All Field Conversations are live-captioned and ASL interpreted. ACA is committed to providing full access to all. Please send accessibility inquiries and requests to Quinn Casey, qcasey [at] artistcommunities.org.
Questions about Field Conversations? Please contact programs [at] artistcommunities.org.
Upcoming Field Conversations
Land Stewardship/Land Back Conversation 
Fall 2023
In this session, panelists discuss questions of land stewardship, environmental responsibility and relationships with and responsibilities to local indigenous nations. How can artist residencies turn intent into action? How can we move beyond Land Acknowledgement to build meaningful and sustainable relationships with the land we inhabit, its sacred and social histories, and the Indigenous communities who have been displaced by the violence of colonialism?
Past Field Conversations
Field Conversation | The Aftermath: Supporting Black Arts Workers after the 2020 Racial Reckoning
Wednesday, March 15, 2023
ACA's President + CEO, Lisa Funderburke hosted a conversation with a panel of arts leaders, who are doing the essential work of supporting Black arts workers across the field:

*Dr. Samantha E. Erskine, Assistant Professor, University of Massachusetts Boston
​​*Quanice Floyd, Executive Director, National Guild for Community Arts Education
*Jeffreen M. Hayes, Ph.D., Executive Director, Threewalls
*Paul Rucker, Artist, Assistant Professor Virginia Commonwealth University, Executive Director of Cary Forward

The year 2020 was marked by platitudes and statements from organizations promising change for racial equity. Was there in fact a reckoning in the arts? Were these well-publicized pledges backed up with clear and consistent action? Are Black arts workers and artists receiving more support outside of your organization and within your professional communities? What can non-Black arts workers do to create true transformation? 

Field Conversation | Response + Risk: Navigating COVID's Impact on the Arts Sector
Thursday, February 24, 2022
From travel restrictions limiting artists' mobility and monitoring communal spaces and facilities; to working with the public and handling vaccination mandates, arts organizations have had to manage instability, tension and anxiety. However, in many ways, the COVID-19 pandemic has not fundamentally changed the fabric of the arts sector, but has rather made pre-existing shortcomings and strains more visible. 
COVID is not the source of harmful cultures and norms within the arts, but should instead be considered an inciter of change; a signal that it is time to create climates of safety and care. In this Field Conversation, the following panelists joined ACA's Executive Director, Lisa Funderburke, to discuss the impact of COVID-19 on the arts and examine how we move forward:
Carolyn Clayton, Events & Welcome Manager - Studios at MASS MoCA, Co-Founder - Walkaway House
Bertha Hidalgo, Ph.D., MPH, Associate Professor - Department of Epidemiology at The University of Alabama at Birmingham 
Janet Newcomb, Executive Director - National Coalition for Arts' Preparedness & Emergency ResponseFrom improving internal communication and listening to staff at all levels to developing plans for emergency preparedness and considering broad spectrums of safety, there is a lot to be done to emerge from this pandemic as a more equitable and sustainable field.

Artist Conversation: ACA's Strategic Plan
Thursday, December 9, 2021
In this session, a panel of artists engaged with ACA staff about their experiences and how we may work together to build a more generative and healthy artist residency field. In the spirit of relevance and responsiveness, we are eager to bring artists' voices forward and provide clarity about the ways we can move with the intention to support environments where all artists can prosper.

Living the Aspiration: The Strategic Planning Process
Monday, September 27, 2021
Artist Communities Alliance recently announced its new name and released the 2021-2023 Strategic Plan. In this plan we ask ourselves, "How can ACA unite the people who power residencies and inspire a field?" Throughout the strategic planning process, we examined our values and questioned how we can create structural change that uplifts and inspires and now we are excited to engage in this ongoing dialogue with you.
In this Field Conversation, ACA board members Melissa Franklin, Sanjit Sethi, and Mario Durham; our Strategic Visioning Consultant, Jennifer Shropshire; and our Executive Director, Lisa Funderburke discussed the strategic planning process and how ACA's partnership with our Board of Directors led to the embracing of this dramatic repositioning.
 

A Year Later: Reflections + Opportunities
Thursday, March 18, 2021 
Leaders from across the field talk about a year of unprecedented transition. What decisions and experiences shaped programs and organizations in 2020? What new working strategies emerged? 
Guest presenters included Jessica Gaynelle Moss (Sibyls Shrine + The Roll Up CLT), Mary Anne Quiroz (Indigenous Roots), Brandon Gryde (National Endowment for the Arts), and John Davis (Rural Policy Research Institute). Facilitated by ACA executive director Lisa Funderburke.

A Conversation About Repair
Thursday, November 19, 2020
What does repair mean in the arts? The year 2020 will be remembered as a defining moment in world history that has illuminated structural inequities and brought the role of the arts into question. How do we dismantle the systems that bind us and bring into existence the different ways of world-building we aspire to in the arts? What are our individual and collective roles in this work? How might we rethink our business models, policies, processes, and practices to move beyond acknowledgments to transformative action? How can reparative action enlarge your organizational identity, equitable capacity, and business model?
Guest speakers included Carlton Turner, lead artist and director of the Mississippi Center for Cultural Production (Sipp Culture); Nicole J. Caruth, writer, cultural strategist, and holistic health coach; and Alec Duffy, co-director of JACK NY. Facilitated by Lisa Funderburke, Executive Director at the ACA.
 

Artist Communities + Civic Engagement
Thursday, October 15, 2020
What role should artist communities play in getting out the vote and supporting civic engagement? How can we leverage our networks and resources to back artists and organizers effecting change? A panel of guest speakers will discuss practices that organizations and individuals can cultivate for meaningful engagement now and far beyond the election. This session will be moderated by Lisa Funderburke, Executive Director at ACA.
Guest speakers included: Amikogaabawiikwe (Adrienne M. Benjamin), artist and advocate; Elizabeth Jabar, printmaker and Director of Civic Engagement and Community Partnerships at Colby College; Najean Lee, Director of Government Affairs & Education Advocacy at League of American Orchestras; Favianna Rodriguez, interdisciplinary artist, cultural strategist, and social justice activist.

Rethinking The Residency Business Model
Thursday, August 6, 2020
The current pandemic, economic crisis, and racial reckoning are stretching and stressing many nonprofits, and raising questions about the sustainability of prevailing nonprofit revenue models. Residencies are being challenged to change how their organizations bring in and sustain revenue. How does your money line up with your program, impact, and strategy? What could change look like? What capacities are required to make the shift?
Guest speakers included: Angie Kim, President + CEO at Center for Cultural Innovation, Dorian Spears, Chief Partnerships Officer at Momentum Nonprofit Partners, Risë Wilson, Senior Advisor at the Art for Justice Fund and Founder of The Laundromat Project and Thaddeus Squire, Chief Commons Steward at Social Impact Commons. Moderated by Lisa Funderburke, Executive Director at ACA.

Beyond Place: Inspiration and Resilience
Thursday, May 14, 2020
In this session, we explored sustaining residency missions in a social climate where the arts are considered non-essential. 
Guest speakers: Sunny Widmann, Director of National Arts Strategies, and Edwidge Danticat, award-winning author. Facilitated by Lisa Funderburke, Executive Director at ACA.