Jobs
Our job board for arts workers, residency staffing and internships.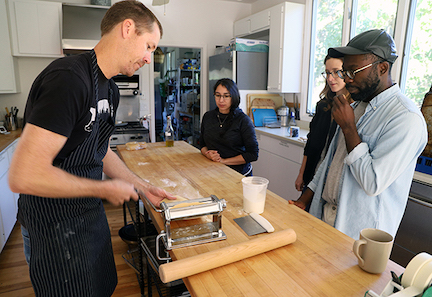 Artist Communities Alliance (ACA)'s job board provides listings of internships, contract positions, and full or part-time employment within several arts-related industries. We list job opportunities relevant to artists, arts workers and creatives of all education and experience levels. In an effort to provide more transparency to job-seekers, all job postings must include salary information; commensurate with experience is not sufficient.
To apply for a job, follow the directions from your selected organization's listing. Always be sure to search the employer's website before applying.
---
ACA Members - To post a job, log in to your existing account and click "Add Job" next to any residency or organization you have listed from your My Account page.
Non-Members - Follow this link to instructions for how to post a job as an external organization.
---
ACA does not endorse the jobs, opportunities, programs, and organizations listed on our job board. We reserve the right to post or remove any listing at our own discretion. Organizations are solely responsible for the style and content of their posts.
| | | | | |
| --- | --- | --- | --- | --- |
| Arts Residency Program Assistant | Constance Saltonstall Foundation for the Arts | Ithaca, NY, US | | view |
| Arts & Culture Program Manager | Visit Carson City | Carson City, NV, US | | view |
| Out of School Time Teaching Artist | Cleveland Play House | Cleveland, OH, US | | view |
| Executive Director | Twenty Summers | Provincetown, MA, US | | view |
| Marcus Curatorial Fellow | Montalvo Arts Center | Saratoga, CA, US | | view |
| Executive Director | The Connecticut Forum (The CT Forum) | Hartford, CT, US | | view |
| Associate Curator of Programming | John Michael Kohler Arts Center | Sheboygan, WI, US | | view |
| Assets for Artists: Residency Coordinator | MASS MoCA | North Adams , MA, US | | view |
| Managing Director | Guest Artist Space Foundation | Lagos, , NG | | view |
| Assets for Artists: Communications Coordinator | MASS MoCA | North Adams, MA, US | | view |
| Executive Director | Kemper Museum of Contemporary Art | Kansas City, MO, US | | view |
| Executive Director | Chesterwood | Stockbridge, MA, US | | view |
| Curatorial Project Manager | John Michael Kohler Arts Center | Sheboygan, WI, US | | view |
| Residency Videographer | Essere Writer & Artist Residency | Chuisi, SI, IT | | view |
| Assistant to the Director Internship | Essere Writer & Artist Residency | Chuisi, SI, IT | | view |
| NYC Office Manager / Directors' Assistant | Skowhegan School of Painting & Sculpture | NEW YORK, NY, US | | view |