Open Calls
Discover residency programs using the open call deadlines listings.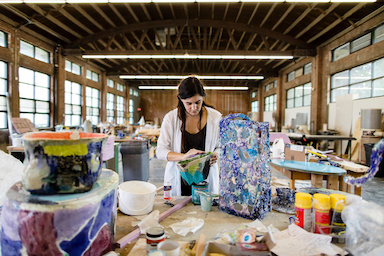 An open call is an opportunity for upcoming or rolling (ongoing) applications. Artist Communities Alliance (ACA) provides two types of lists to help with the residency search process. Note that only ACA members and their residency programs are listed.
Open Calls listed below are sorted chronologically by the deadline date.
Do you want your residency program or open call featured in the Directory?
| | | | |
| --- | --- | --- | --- |
| Nocefresca di Sassu Francesca | Nocefreschissima | view | No deadline | Oristano, Italy |
| ´ace | Palimpsest Project—Mural Painting Open Call for 2023 | view | No deadline | Buenos Aires, Argentina |
| Nantucket Island School of Design and the Arts / OffShore Artists Residency | Nantucket Island School of Design & the Arts | view | No deadline | Massachusetts, United States |
| School of Visual Arts | Illustration and Visual Storytelling: Art and Industry - Summer Residency | view | No deadline | New York, United States |
| Dorland Mountain Arts | Residency Program | view | No deadline | California, United States |
| Millay Arts | Millay Arts: Steepletop Residency Rolling Deadline | view | No deadline | New York, United States |
| Eutopia Art Residency | Artists Residency in Greece (November 2023) | view | No deadline | Greece |
| Women's Studio Workshop | Nonprofit Management Internship | view | No deadline | New York, United States |
| School of Visual Arts | Fine Arts: Painting and Mixed Media - Summer Residency | view | No deadline | New York, United States |
| ARCAthens | Residency Program | view | No deadline | New York, United States |
| Green Olive Arts | Green Olive Arts: Fall Season 2022 / Winter & Fall Seasons 2023 | view | No deadline | Morocco |
| Aviário Studio | Aviário Studio Art Residency | view | No deadline | Portugal |
| School of Visual Arts | From the Laboratory to the Studio: Interdisciplinary Practices in Bio Art | view | No deadline | New York, United States |
| City of Novi | City of Novi - Villa Barr Art Park: Residency 2023 | view | No deadline | Michigan, United States |
| The Robert Rauschenberg Foundation | Application by Invitation | view | No deadline | Florida, United States |
| School of Visual Arts | The Artist Residency Project Fall 2023 | view | No deadline | New York, United States |
| Women's Studio Workshop | Studio Internship | view | No deadline | New York, United States |
| School of Visual Arts | Fine Arts: Contemporary Practices - Summer Residency | view | No deadline | New York, United States |
| Kindred Creative Residence + Agro-ForesT | Kindred Creative Residence : Seeding Kindred | view | No deadline | |
| Golden Apple Art Residency | Golden Apple Studio: Summer Residencies - 2023 | view | No deadline | Maine, United States |
| Nantucket Island School of Design and the Arts / OffShore Artists Residency | Off Shore Artists Residency / Summer 2023 | view | No deadline | Massachusetts, United States |
| School of Visual Arts | Building Brands with Type | view | No deadline | New York, United States |
| PLAYA | 2023 Self-Directed Residencies | view | No deadline | Oregon, United States |
| Atlantic Center for the Arts | Atlantic Center for the Arts : Ongoing Mentored Artist Residency | view | No deadline | Florida, United States |
| The Whirlybird Compound Artist in Residence | Cultural Immersion Southwest Louisiana March 1, 2023 - May 30, 2024 | view | No deadline | Louisiana, United States |
| School of Visual Arts | Public Performance Art and Actions | view | No deadline | New York, United States |
| Grünewald Guild | Fall 2023 | view | No deadline | Washington, United States |
| The Steel Yard | The Steel Yard: Micro Artist Residency | view | No deadline | Rhode Island, United States |
| Armory Art Center | Call To Artists for 9-month 23-24 Artist in Residence Program | view | No deadline | Florida, United States |
| School of Visual Arts | Design Writing and Research Online Intensive | view | No deadline | New York, United States |
| Eutopia Art Residency | Eutopia Art: Open Calls Artistis Residency in Greece 2024 | view | No deadline | Greece |
| ´ace | Micro-Residencies Open Call for 2023 | view | No deadline | Buenos Aires, Argentina |
| Artscape Gibraltar Point | Artscape Gibraltar Point Self Directed Residency | view | No deadline | |
| School of Visual Arts | Photo and Video x Studio Practices - Summer Residency | view | No deadline | New York, United States |
| School of Visual Arts | Artist Residency Programs | view | No deadline | New York, United States |
| Millay Arts | Wintertide Rustic Retreat Rolling deadline | view | No deadline | New York, United States |
| Eutopia Art Residency | Open Call Artist Residency GREECE 2024 | view | No deadline | Greece |
| The Hundredth Hill | The Hundredth Hill Artist Retreat for Writers and Musicians | view | No deadline | Indiana, United States |