The McKnight Artist Residencies consortium is a partnership between Artist Communities Alliance (ACA) and the McKnight Foundation. The consortium is designed to build equitable capacity in the artist communities field and connect McKnight Artist Fellows with national and international residency opportunities.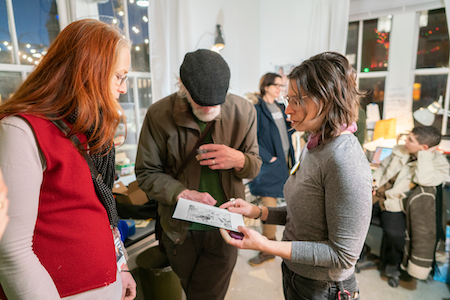 This multi-year regranting partnership provides direct support to artists to attend residencies and to residency programs to host artists. 
This consortium aims to support the development of residency environments where any artist or staff member can thrive. Participating residencies will receive resources and guidance around assessing and building their equitable capacity — enabling programs to develop fair and just policies and practices, and begin to dismantle white body supremacy. The residency program partners will participate in a peer working group and receive dedicated training on ACA's Healthy Residency Framework. In addition to this learning process, participating residencies will host McKnight Artist Fellows for 1-2 week stays in 2023 and 2024. 
Founded on the belief that Minnesota thrives when its artists thrive, the McKnight Foundation's arts program is one of the oldest and largest of its kind in the country. Support for individual working Minnesota artists has been a cornerstone of the program since it began in 1982. The McKnight Artist Fellowships Program provides annual, unrestricted cash awards to outstanding mid-career Minnesota artists in 14 different creative disciplines. Program partner organizations administer the fellowships and structure them to respond to the unique challenges of different disciplines. Currently, the foundation contributes about $2.8 million per year to its statewide fellowships. For more information, visit mcknight.org/artistfellowships.
The Residency Sites
The 2023 McKnight Artist Residencies consortium includes: 
Art Omi | Ghent, NY, USA
BOOM Universe Residency | Pittsburgh, PA, USA 
Crosstown Arts | Memphis, TN, USA
Hedgebrook | Whidbey Island, WA, USA
Hyde Park Art Center | Chicago, IL, USA
Kala Art Institute | Berkeley, CA, USA
Montalvo Arts Center | Saratoga, CA, USA
Penland Winter Residency | Penland, NC, USA
The Studios at MASS MoCA | North Adams, MA, USA
Women's Studio Workshop | Kingston, NY, USA
For more about this program, contact zaconner [at] artistcommunities.org
Report an Incident -- If you have experienced instances of harm at an artist residency program, including, but not limited to racism, differential treatment, transphobia, ableism, sexism, harassment, bullying, and histories of systemic abuse, we encourage you to report these incidents by contacting us. 
As trusted intermediary and resource for and among artists, residency staff, leadership and board members, we are committed to creating inclusive, just, joyful, and accessible environments where artists and staff can thrive.